Clayton Banks, 614News.com
1/30/2017
Columbus Anti-Trump Rally – The Signs of the Times
As more than two thousand protestors gathered in downtown Columbus, the Ohio Statehouse quickly became the scene of one of the largest anti-Trump rallies in Ohio since the inauguration - and by far one of the most creatively expressed.
The Jan. 30 event took place largely as a result of President Donald Trump's Executive Order on Friday tightening the vetting process and limiting travel into the U.S. of non-citizens from a list of 7 countries for all incoming refugees. And although the order echoes a nearly identical list issued by the Obama administration which identified countries previous National Security Agencies saw as potential security threats, the rally's hostility was directed entirely at the current Commander-in- Chief.
As has been the case at most of the recent anti-Trump protests, last night's rally seemed to be a competition of "sign one-upmanship". This was a homegrown, grass-roots campaign to see who could besmirch the president in the most creative ways possible.
A group of college students had gathered around the Peace Statue near High St. during a break from the call and answer chants coming from the Capitol's front lawn. Each held a personalized, hand-crafted poster. They compared placards and laughed at each other's witty slogans. Shiloh, a sophomore fashion design major from nearby Columbus College of Art & Design, said she saw some sign templates online but preferred making her own.
"I'm naturally a creative person, so when I heard about tonight's rally, I knew I could come up with a funny slogan," she said. "Trump is a demagogue and you can make a lot of rhymes about him, but unfortunately a lot of the really creative ideas have already been used.&quot
; She went on to say that despite attending more than ten rallies in Columbus since the election, she has crafted an original poster and slogan for each event. For this protest, she carried a poster with the message, "Imma let you finish, but Immigrant first!" With Shiloh was Jacob, her 26-year old partner and frequent protest companion. He carried a double-sided sign attached to a broom handle. He said they had been asked to leave the main rally area by several organizers because "wood or pole mounted signs" had been banned at this particular event.
"It's a safety issue, and I respect that. They don't let us smoke over there anyway,"
Jacob said as he passed his cigarette to Shiloh, who was taking a selfie as they both were interviewed.
"I can't just take the poster off the stick, because then the message wouldn't make sense,"
he said.
"On one side is a drawing I made of Trump. On the other is a drawing I made of Hitler. When I spin the pole, the two pictures join together. It's called a stereogram."
Event planners had banned wooden handles for signs due to the threat of sticks being misconstrued as weapons. Recent protests in Portland and Washington D.C. had seen windows broken and vehicles vandalized. At press time, Columbus Police have made no reports of property damage, although hundreds of signs and litter still remain along the outside perimeter of the Statehouse.
On the protest's Facebook Event page, Socialist Alternative Columbus representative Corey Andon called on all attendees to resist the current administration.
"It is up to each one of us to continue this movement," Andon wrote online. "Unfortunately, there are no breaks. As long as we live in a system that only works for wealthy white males, as long as Donald Trump is president, and as long as we continue to bomb countries left and right - we will organize."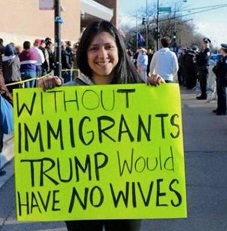 At first glance, last night's gathering at the Ohio Statehouse appeared to be a spontaneous uprising of solidarity against immigration policies. But the signs presented the crowd's message through creative, art-major- inspired strokes of humor. There were standard anti-Trump messages calling out misogyny, racism, and "pussy-grabbing", but there were also more nuanced – and creative – messages.
"I voted for Bernie and all I got was this stupid deportation order."

"Hey hey…Hee hee…I'd let a sex-positive Russian prostitute pee on me! (If Trump resigned)"

"We're all Dreamers, because this is one big Trumpian nightmare."

"Christopher Columbus was an undocumented immigrant – checkmate assholes."

"Barron has Autism, and not the Rain man kind."

"Each time we say 'Islam! Feminism! Love!', a republican loses his wings."

"Republican nasty women don't need to douche, because they already have Steve Bannon."

"No Hate. No Hate. No Hate. Fuck Trump."


Despite the cold temperatures, a small crowd had gathered around the McKinley monument long after the main group of protestors had dispersed. The imposing statue signaled a rallying point for the most ardent of the remaining demonstrators. Within the remaining group was Kendri, a local bartender and trans-rights activist.
"This is not a protest,"
she said.
"This is a LGBTQ call to arms. A call for freedom. Refugees built this country. We're standing in front of buildings built by slaves, and Trump wants to erase that history."
The rally was organized almost entirely through social media, and came just one day after hundreds of protestors gathered at John Glenn Columbus International Airport to protest what many have called a "ban on Muslims". #FightTheBanCMH
Columbus organizers have already called for more protests in the future and with each new Executive Order, protestors like Shiloh, Jacob, Kendri, and their friends stand ready to make new signs to show their discontent. #NoBanNoWall